General information
In the south of Belarus, on an area of 6.1 million hectares, the vast Polesskaya lowland stretches, stretching from west to east for more than 500 km. Polesie is an amazing land of lowlands and plains, forests and swamps, pierced by numerous rivers, streams and streams that slowly carry their waters to the Pripyat and the Dnieper, which flows into the Black Sea.
In the middle reaches of the Pripyat River, the Pripyat Polesie is located. It is here, in the interfluve of Pripyat, Stviga and Ubort, that the Pripyatsky National Park is located.
Landscape features
In the flooded, treeless part of the floodplain, on low manes, there are meadows with lush herbaceous vegetation and colorful spreading oak trees. In the depressions, shrub and tree-like willows, low-lying bogs, and old lakes are widespread. Many birds nest in these places. In spring, the floodplain is flooded with flood waters, sometimes the water covers up to 80% of the territory. Here, in shallow water meadows and forests, schools of fish come to spawn: bream, pike, sabrefish, roach, ide.
The forests of the national park are considered the best preserved among the floodplain forests of the Pripyat and Dnieper basin. They are unique to the entire East European Plain. Rich biodiversity is characterized by oak forests, ash-trees, small-leaved forests of the first above-floodplain terrace, alternating in depressions with black alder forests, willow shrubs and low-lying bogs.
The second above-floodplain terrace is represented by the largest in Europe massif of transitional and raised bogs with an area of about 30,000 hectares.
In the south of the park, on sandy hillocks, ridges and dunes of the water-glacial plain, typical Polesie pine forests grow.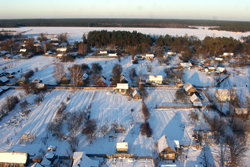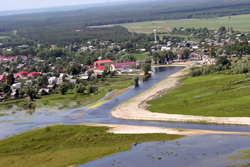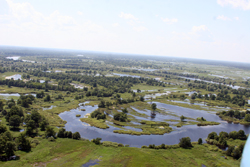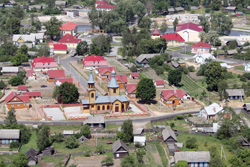 The original culture of the region's population
If we talk about people living in the territory of the National Park, we must first of all recall such qualities as honesty, simplicity, kindness and hard work, which have always distinguished the ancestors of the Poleshuk peasants who have long lived in this territory.
The skill of the Poleshuk grew from year to year. He learned the necessary skills of working life, mastered carpentry and joinery, learned to weave from bark and birch bark, forge in a smithy, make sheepskins and skins of fur animals. In the summer, in the morning, I checked traps for fish, mowed hay, beamed, drove tar and tar, chopped wood; in the evening he was engaged in the repair and manufacture of various household utensils. In winter he hunted for upland birds and beasts, and in the evenings he forked ropes, knitted nets, made samotovs, boxes, dishes.